http://www.bbc.co.uk/russian/multimedia/2013/01/130114_bbseva_italy_vegetarian.shtml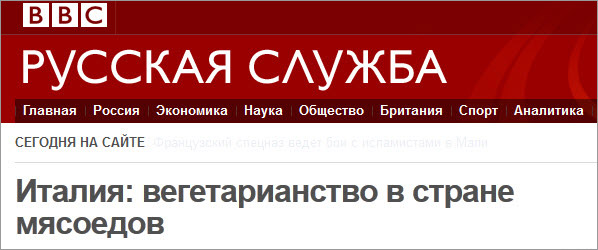 Полностью слушайте в аудиоверсии.
В итальянской области Эмилия Романья вегетарианство чуть ли не приравнено к экзотическому заболеванию. В центре городишка Кастелнуово Рангоне стоит памятник свинье в натуральный рост.
Находится этот город на севере Италии в 20 минутах езды от Пармы, где изготавливают известную пармскую ветчину.
В программе "БибиСева" автор книги "Еда. Итальянское счастье" - об универсальной роли еды в итальянской культуре - Елена Костюкович поговорила с Севой Новгородцевым о том, относятся ли к вегетарианцам в Италии с пониманием или с подозрением...
In the Italian region Emilia Romagna vegetarianism is almost compared to an exotic illness. In the small town Castelnuovo Rangone there is even a life-size monument to the pig. This town is in northern Italy, reachable in 20 minutes by car from Parma, the city that made Parma ham famous.
In the program "BibiSeva", the author of "Why Italians Love to Talk about Food" - on the universal role of food in Italian culture - Elena Kostioukovitch spoke to Seva Novgorodtsev about whether vegetarians in Italy are regarded with understanding or suspicion ...