https://www.rsi.ch/rete-due/programmi/cultura/moby-dick/Cento-anni-dopo.-La-Russia-nuova-la-Russia-eterna-9623884.html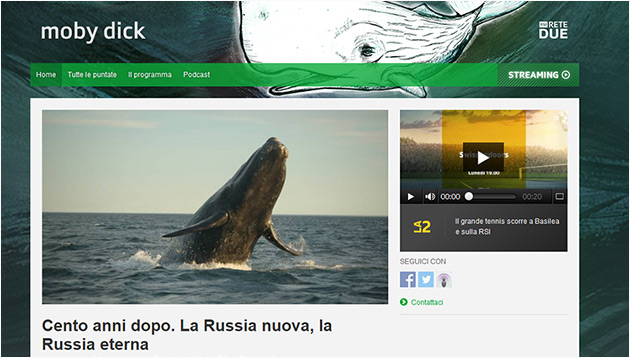 Cento anni dopo. La Russia nuova, la Russia eterna
On 7 October 2017 Elena Kostioukovitch participated in an interview, in which also Sergio Romano and Evgeny Utkin took part, for the radio program "Moby Dick" on the Swiss Radio RSI LA 2. The topic was the Russian Revolution.
Sabato 07 ottobre 2017 alle 10:00
Ascolta in file audio
Cento anni dopo. La Russia nuova, la Russia eterna
A cura di Alessandro Bertellotti e Gigi Donelli
È passato un secolo esatto dalla Rivoluzione d'ottobre, che cambiò per sempre la Russia e il mondo. Ma come descrivere la Russia alla vigilia di questa scadenza storica? La Rivoluzione d'ottobre sembra una questione per nostalgici veterocomunisti, il nuovo corso di Putin preferisce altri momenti nel passato della nazione da rivendicare in nome dell'unità nazionale. E come la Russia oggi fa i conti con il proprio passato? Dal desiderio di ritornare ad essere una superpotenza ed avere un ruolo dominante nelle questioni mondiali, fino alla ricerca di un ruolo economico sia all'interno dei propri confini sia nel mondo – confrontandosi con l'ingombrante Cina. Infine lasciare alle spalle il dubbio che quella di Putin non sia una vera democrazia, nella quale l'opposizione ha un ruolo marginale e l'uomo forte assume tutte le responsabilità della nazione.
Con Sergio Romano, ex ambasciatore d'Italia a Mosca, storico e saggista, Elena Kostioukovitch, scrittrice e traduttrice, Evgeny Utkin, docente universitario, giornalista e opinionista.