To read/participate, click on:
http://www.scordo.com/2010/01/why-italians-love-to-talk-about-food-history-of-calabria.html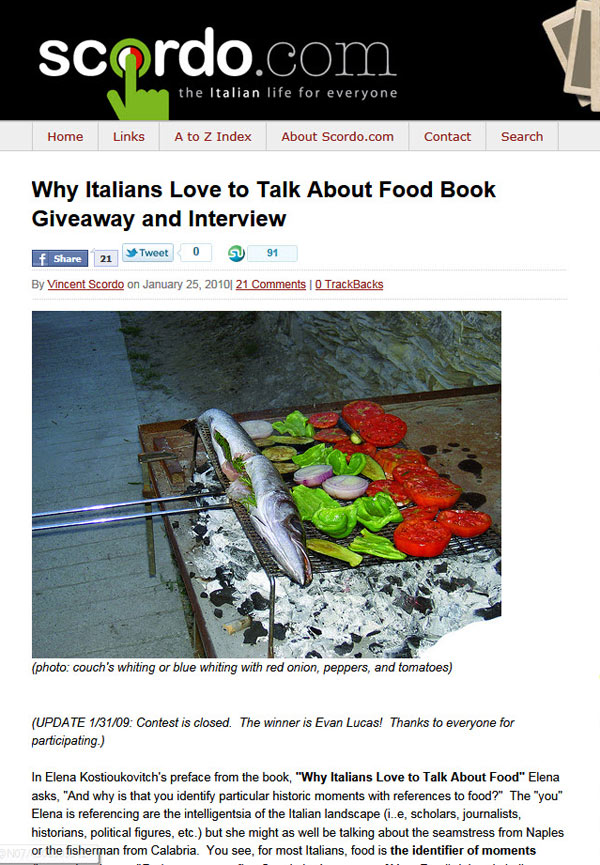 In Elena Kostioukovitch's preface from the book, "Why Italians Love to Talk About Food" Elena asks, "And why is that you identify particular historic moments with references to food?" The "you" Elena is referencing are the intelligentsia of the Italian landscape (i..e, scholars, journalists, historians, political figures, etc.) but she might as well be talking about the seamstress from Naples or the fisherman from Calabria. You see, for most Italians, food is the identifier of moments (hence the phrase, "Parla come mangi" or Speak the Language of Your Food); it bonds Italians, allows them to experience pleasure, and defines what it means to lead a good life. In America, we consume material or money, while in Italy its inhabitants eat wonderful foods to "live well and soundly" (and it's the most basic and pure form of consumption).
I have to confess, I was fascinated with Kostioukovitch's book well before I sat to read through the 450 pages. My fascination wasn't, of course, centered on how a people could disregard economic or material status for the sake of food, but, rather, why anyone would want to chase the good life in any other manner beyond eating well. You see, I learned early only to associate both important events in my life, as well as the mundane, with wonderful food. For example, I associate my first trip as a boy to Italy with the taste of cold pressed extra virgin olive oil from Nonno Latella's small olive orchard outside of Bagnara Calabra. The olive oil was different from the corn oil my Italian family consumed in the States (we couldn't afford olive oil in those days) and I quickly identified our trip to Calabria with the green nectar from many years to come. And it wasn't just olive oil that formed strong references to key events in my life. I still associate, vividly, the smell of frying dough with Christmas Eve (zeppola), boiling pasta water with Sunday mornings (linguine with a rabbit ragu), sun dried tomatoes , provolone cheese, and salami to my parent's Saturday evening dinner parties, and strong stove top espresso with my mother's breath.
Kostioukovitch does a great job of documenting the same sort of food associations I mention above in her 19 chapters on Italian regions, history, and folklore. I was particularly interested in her chapter on Calabria and it didn't disappoint. Here are some interesting food and cultural tidbits on the southern Italian province of Calabria from Kostioukovitch:
1. In some parts of Calabria, "farmers still read omens from a pig's entrails when it is taken to slaughter, as the Etruscan haruspices did." I remember when Nonno Latella used to slaughter a given pig from his stock (about every 2 years or so) and the ritual was very solemn (he didn't do much reading or perform any rituals; rather he was focused on slaughtering the pig).
2. Calabrian women danced and shouted incantation to drive away evil spirits while kneading dough. Both my Calabrian born grandparents kneaded plenty of dough and I don't remember them shouting, unless of course I came into the kitchen with dirty hands. However, I do remember Nonna Scordo telling me I had very poor hip movement when I kneaded (she said I had no rhythm or style and she was right).
3. The sign of the cross is traced on loafs of bread before they enter the oven. I'll have to ask Zia Giovanna if she performs this ritual in her bakery each morning. My hunch is that she may on occasion trace a few crosses, given her belief that one can make major life decisions by placing a single drop of extra virgin olive oil in a bowl of water and then asking the oil to move in a certain manner (when she did this for me as a small child I thought we were playing the Oiju board game; I was slapped quickly and told to sit still).
4. Calabria was part of Magna Craecia (or "Greater Greece" from the eight century B.C. until the third century. The Romans arrived in Calabria 500 years after the Greeks and loved the local wines! After the Roman empire fell, "Calabria was ruled by the Germans, the Goths, the Lombards, the Byzantines, the Normans, the Franks, the Swabians, the Saracens, the Spanish, and the French." The 'ndrangheta (Calabrian mafia) begin flexing it's muscle from 1850 onwards and some say they've never loosened their vice grip on the region (a sad fact for the people of Calabria).
5. Cistercians monasteries dominated much of Calabria and their traditions continue to this day, such as practicing an ascetic way of life and deep reliance on agriculture.
6. An annual swordfish sagra (festival) is held on the first Sunday in July in Bagnara Calabra. The sagra features wonderful food and is best known for the blessing of the ontre or traditional fishing boats used to spear swordfish. The is one cool event and it takes place only 10 minutes outside of Pellegrina (Pellegrina has it's own sagra focused on wheat)
7. Calabrians are famous for the diversity of their eggplant crop as well as reliance on fava beans, broad beans, and white beans. Many fish are consumed from the Tyrrhenian and Ionia seas including swordfish, tuna, sardines, and herring. See my article on 10 Ways to Cook Like An Italian here.
Contest / Book Give Away
In order to spread the concept of leading the good life via food (or at least talking about it!) the folks over at Farrar, Straus, and Giroux hava agreed to send a free copy of Why Italians Love to Talk About Food to one lucky Scordo.com reader ! Here's how you can enter the Why Italians Love to Talk About Food book giveaway contest:
- Prize Giveaway includes one (1) copy of Why Italians Love to Talk About Food.
- What you need to do to enter: 1. leave a comment under this post on a favorite food memory (from any region of the world) and how you indentify it to a major life moment or event (or even an important person or relative) and 2.sign up for the Scordo.com What's New Newsletter here (if you're already a newsletter subsriber than you'll need to sign up as a fan of Scordo.com on Facebook here).
- Only one entry per person please.
- The contest is open until 12 midnight on 1/30 and a single random user will be picked via Random.org (sorry contest only open to folks from the US given shipping logistics). The winner will be announced immediately on Twitter (so please follow me) and on Scordo.com by 5PM on Monday, 2/1.
- Please use a valid email address when leaving a comment so I can contact you just in case you're the lucky winner (I'll need your shipping address).
- Farrar, Straus, and Giroux will send out the book to the single contest winner during the week of 2/1.
Finally, Elena was nice enough to answer a few of my questions on Italians and food. You can find the full interview below:
1. How did you first get interested in the relationship a typical Italian has with his or her food?
It was soon after I began my formal study of Italian language and culture in the University of Moscow. Suddenly I realized that there's a multitude of topics, either abstract or practical, which are closely linked to a food themes of in the mind of Italian people (and of people of Italian origins of course). An Italian says about his or her mother that 'she's as gentle as a bread', about a friend: 'we're like mac and cheese' ('cacio con i maccheroni'), and about a nasty person: 'his pumpkin (head) obviously lacks salt (brains)'. So the more I've been reading Italian journalism, poetry, novels, even philosophy and academic books, the more obvious it was: in order to understand Italy and Italians, one definitely should familiarize herself with secrets of their culinary code.
2. What surprised you the most about how Italian interact and relate to food?
I just love their comprehensive approach to food! A dish can't be 'delicious' or 'bad' per se, it's to be evaluated in context of the entire feast menu. To really enjoy spaghettis, one should take into account a dish that was served before it (antipasto), what was a main dish, and what followed (a dessert). Such an approach suppose that a customer is not only able to evaluate a palatability of every single dish, but also understands what sequence/combination of dishes might be considered prefect, good, adequate, bad, or disastrous. I should affirm that literally every adult Italian has got - subconsciously in the majority of cases - this culinary culture, that he or she has adopted from the very childhood, both in family and in social institutions (kindergarten, school, college etc.)
Yet to say that Italian teenagers today - and especially in big cities - gradually absorb an American-style eating traditions: hamburgers, French fries, hotdogs, Coca-Cola. It is possible that in a decade or two Italian culinary rituals and traditions will sink into degradation and will be swept away by a globalization.
3. Americans get a bum wrap for their relationship with food (not to mention the typical American diet); are things changing in the US? Will we ever see regional cooking make a comeback in the US?
Well, you tell me! I strongly hope that there's a possibility for that in the US, but let your readers express their own judgments. I will enjoy reading them. (Scordo comments: well, what do you think of Elena's question, will American ever be food obsessed in the way Italians live and eat?)
4. Your book is not a typical cookbook; was it difficult to talk about food with no references to recipes?
The main subject of my book is not a food in itself, but what Italians SAY about it. To a certain degree, my book is a systematized collection of testimonies of Italians who cook, sell, describe, picture, enjoy and eat Italian food. To put it the other way, my book's main focus is not on recipes, but on existing general concepts and their roots.
5. Is there a particular regional, Italian, cuisine that you like best?
My favorite regional Italian cuisine is definitely that of beautiful Toscana (Tuscany). Its food is full of energy and dynamism essential for Tuscan character. I adore the taste and look of fresh Tuscan products: vegetables, bread, fish, meat, and not to forget about its inimitable wine. I would highly recommend a freshly-made fiorentina beef stake (only a couple of minutes on grill), a cazzimperio salad made of fresh vegetables and special seasoning (vinegar, olive oil, local spices). Tuscan bread is in the base of the world-known bruschettes. As for a local fish courses, made of Tuscan fish, so rich in flavor, my favorite is a delicious cacciucco soup, which according to a local tradition should be prepared of at least five different kinds of fish (as many as Cs in its name, cacciucco), though the more the better.
6. Of the southern regions of Italy, is there a dish or food philosophy that you enjoyed researching or were surprised by?
As almost every newcomer, I was amazed by a practice of meridionale (southerners) to eat a wet uncooked fish or seafood just from the net, seasoning it only with salt and lemon juice and washing it down with chilled white local wine. This viand turned to be just as tasty, nutritious and delightful as French oysters accompanied by Chablis wine or Japanese fugu sushi with Japanese beer; the only difference is that the last two are world-famous luxury food, while only few connoisseurs outside Italy know the divine taste of a freshly caught octopus, sea urchin and frutti del mare accompanied by chilled Fiano wine (brought to Apulia by Angevins some 800 years ago). To tell you all the truth, I believe that one should try these delicacies only in Italy, combining a joy of gourmet with other esthetic pleasures Apulia with its magnificent seashore and plenty of old Norman castles offers.