http://www.domrz.ru/index.php?mod=news&id=1976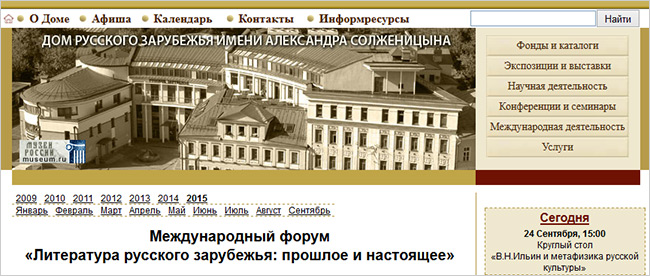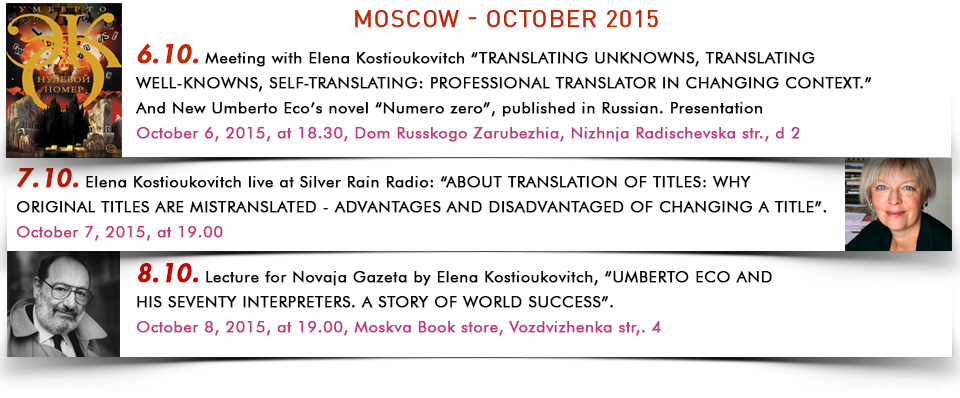 On October 5-6, 2015, Elena Kostioukovitch took part in the International conference 'Past and Present of Russian Literature Abroad' which took place in the Solzhenitsyn House of Russia Abroad at Nizhnyaya Radishchevskaya str., 2, Moscow, for details see http://www.domrz.ru/index.php?mod=news&id=1976
The conference's program included the roundtables and workshops with many of renowned translators from Europe and Russia participating.
On October 6, Elena Kostioukovitch presented a public lecture "Translating unknowns, translating well-knowns, self-translating: professional translator in changing context."
Brief: technical aspects of translation in different situations, depending on whether direct contact with the author of translated work is possible or not. Specific situation: self-translation, when direct contact of the author with translator is inevitable, and usually interferes with a job.
On October 7 at 19.00, Elena gave a talk live at the Silver Rain broadcasting channel: "About translation of titles: why original titles are mistranslated - advantages and disadvantaged of changing a title".
On October 8 at 19.00, at Moskva book store, Vozdvizhenksa str,. 4, Elena Kostioukovitch presented a public lecture "Umberto Eco and his seventy interpreters. A story of world success" organized by Novaya Gazeta.