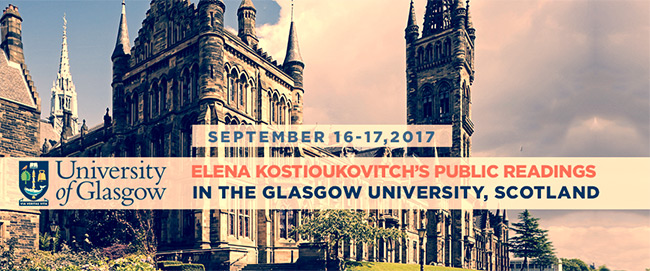 AN ACADEMIC CONFERENCE TO CELEBRATE ONE HUNDRED YEARS OF RUSSIAN STUDIES AT THE UNIVERSITY OF GLASGOW - 1917-2017
"100 Years of Russian Studies at the University of Glasgow – Teaching, Research, Memory"
Saturday 16th September 18.30
Wolfson Medical Building, Yudowitz Seminar Room
Ludmila Ulitskaya and Elena Kostioukovitch meet the GU Students.
Two prominent Russian guests meet the students of the University of Glasgow. Organised by the GU students' society "Glasgow Slavic Club".
Sunday 17th September 11.00
Main Building, Senate Room
Keynote Address by Elena Kostioukovitch (scholar, literary translator, essayist, literary agent, novelist): "Russian Studies as a Profession, Russian Studies as Social Commitment".
Program of event